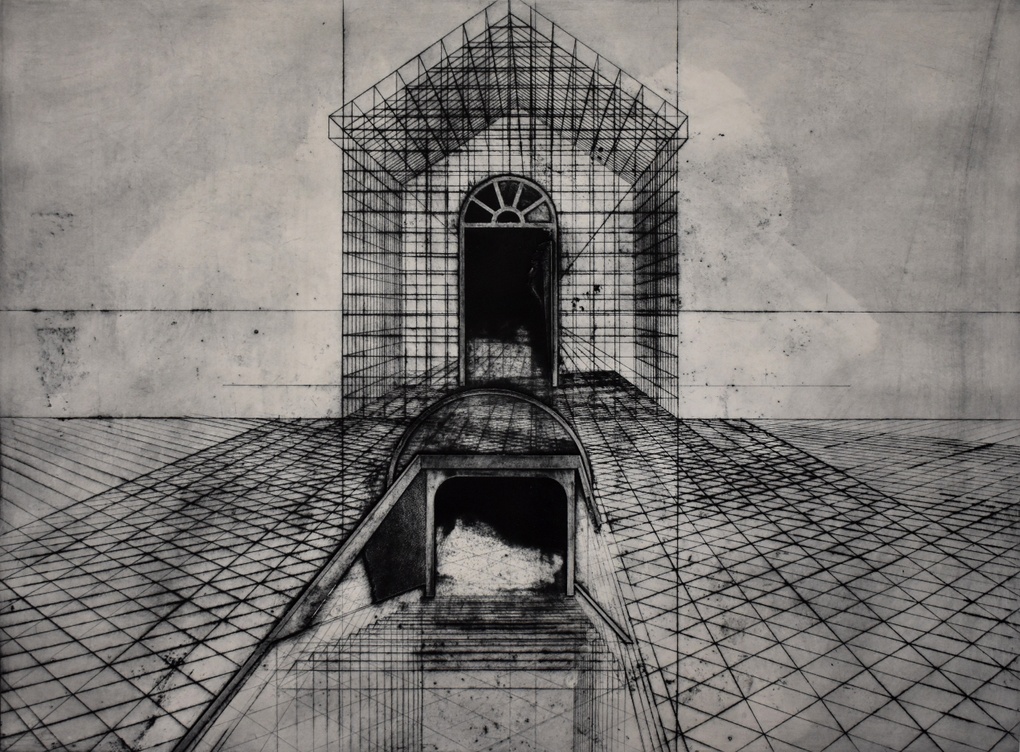 Evan Summer, One Hundred Years
Statement
When I create these images I think of fear in an unknown place with constructed forms the only sign of human presence. Most of my work is landscape, usually combined with architectural and geometric forms. The images reflect the passage of time. Associated with this is memory, change, abandonment, and isolation. These themes seem especially relevant in the time of coronavirus. The techniques I use reflect my interest in printmaking tradition, craft, and innovation. I work extensively with etching and collagraph, where I've experimented with the use of uncommon plate materials.
Artwork Info
Date
2020
Dimensions
36 x 48 inches
Medium
Intaglio (drypoint and collagraph)
Artist Info
Born
Buffalo, NY
Works
Kutztown, PA
Biography
Evan Summer, born and raised in Buffalo, NY, first received his BS in Chemistry. His study of science has had a lasting impact on his work. He went on to study printmaking and painting at SUNY Buffalo with Harvey Breverman and Seymour Drumlevitch. In 1975 he received his MFA in printmaking at Yale University, where he studied with Gabor Peterdi and Richard Ziemann. Evan's work has been shown in over 300 exhibitions. Solo exhibitions include the Corcoran Gallery of Art in Washington, DC (1999-2000), Reading Public Museum (Reading, PA in 2001 and 2005-06), Scuola Internazionale di Grafica in Venice (2007), and a 2018 exhibition at the China Printmaking Museum in Guanlan, China. In 2019 he retired from Kutztown University of Pennsylvania, after teaching there for 34 years. He received Kutztown University's two highest awards, the Chambliss Award for research and the Wiesenberger Award for excellence in teaching.