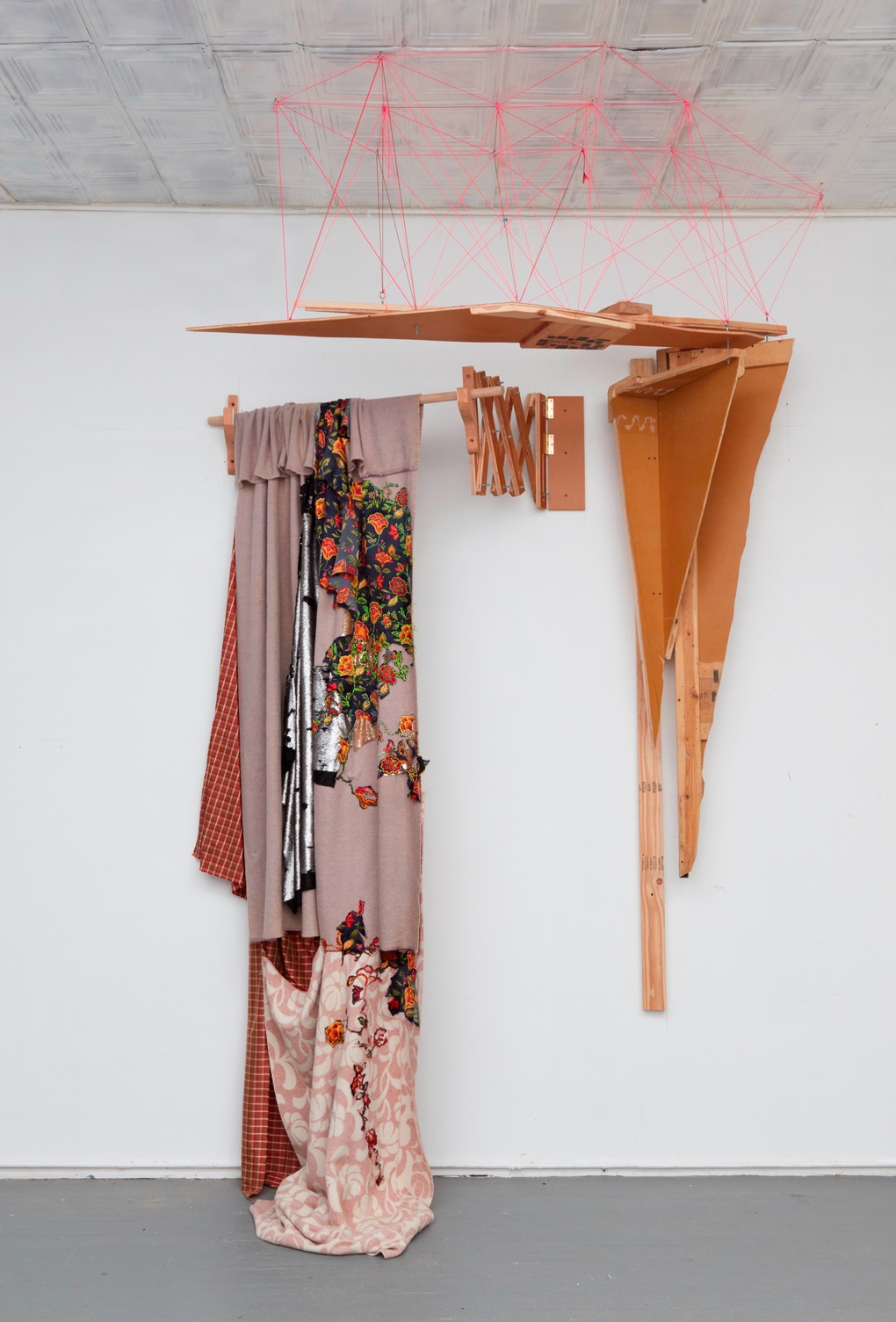 Elana Herzog, Cross Pollinations 2
Statement
I use material culture to consider aspects of ephemerality, entropy, pleasure, and pain. My current focus is on the global migrations of culture and technology as seen through the lens of textile. I research ways that people and materials relocate, transforming environments over time. I collect textiles gleaned from daily life; charged materials that carry stories, mark time, chart navigations and conquests. They form the basis of sculptural installations, which blend and translate them into visually dynamic mash-ups, open to multiple readings. For years I've used thousands of metal staples to embed (then deconstruct) found textiles into various surfaces: walls, panels, mixed media constructions. Recent work incorporates cut logs, shipping crates, pallets, and embroidery. My installations, characterized by a mix of rigorous hard work and playful, context-sensitive experimentation, subsume labor-intensive "making" and "unmaking" into a final product that's light-on-its-feet and almost seems to dissolve.
Artwork Info
Date
2020
Dimensions
Dimensions variable; 144 x 88 x 45 inches (as pictured)
Medium
Cut fragments of wooden crate, miscellaneous lumber, mixed textiles sourced in Norway, Russia and New York, embroidery floss, hardware, nylon cord
Artist Info
Born
Toronto, Canada
Works
New York
Reflecting on this Year
While this project began before the Covid-19 pandemic world, I see it as participating in a conversation that is ongoing and relevant to recent events. I began the Cross-Pollinations series during a 2019 residency at Wave Hill, which is an art space, a botanic garden, and the former visions of both nature and culture. There, I responded to the stately interior of the buildings and began several large hanging curtain-like pieces that layer and hybridize floral textiles collected in several parts of the world. After relocating this work-in-progress to my studio, I've developed its sculptural characteristics to engage architecture differently, and to challenge its relationship to "curtain." The residency at Wave Hill followed a month spent in Russia researching the pre-Soviet, Soviet, and post-Soviet textile industry and textile motifs. The 19th-century colonization of Central Asia by Russia took place as it vied for dominance in the cotton trade, competing against a US industry built on slave labor. The vernacular culture that emerged was impacted by these changes–coercive labor practices, the destruction of subsistence economies, and the emergence of new markets. Just as plant motifs are predominant in Russian textiles, they are pervasive throughout most of the world, and show the influence of cultures on one another. Plant life, both cultivated and "wild," participates in the global migration of cultures and goods–sometimes inadvertently impacting the ecosystem of its new surrounding. Many terms refer both to plants and to people, for instance: uprooted, transplanted, invasive, native, alien. Conquerors often import the gardens of their homelands, planting them as they would plant their national flag. All of this parallels other forms of cultural and economic exchange that take place.
Biography
Elana Herzog holds a BA from Bennington College and an MFA from Alfred University. She is a 2017 Guggenheim Fellow and was recently interviewed by Jan Castro for Sculpture Magazine. Herzog is developing a project for the inaugural exhibition at the David Rockefeller Creative Arts Center, in Tarrytown, New York, scheduled for 2022. Herzog has exhibited widely, nationally and internationally, at the Sharjah Art Museum, United Arab Emirates; Brooklyn Museum; Museum of Arts and Design; Tang Museum; Weatherspoon Museum; Kohler Museum; Aldrich Museum; and Herbert F. Johnson Museum, among other venues. A survey of Herzog's work since 1993 was at the Daum Museum of Contemporary Art in 2009. Her awards include Anonymous Was A Woman, Louis Comfort Tiffany, Lambent Fund Fellowship, and Joan Mitchell Award, as well as residencies at Yaddo, MacDowell, Joan Mitchell Center, Josef and Anni Albers Foundation, and Marie Walsh Sharpe Space Program.