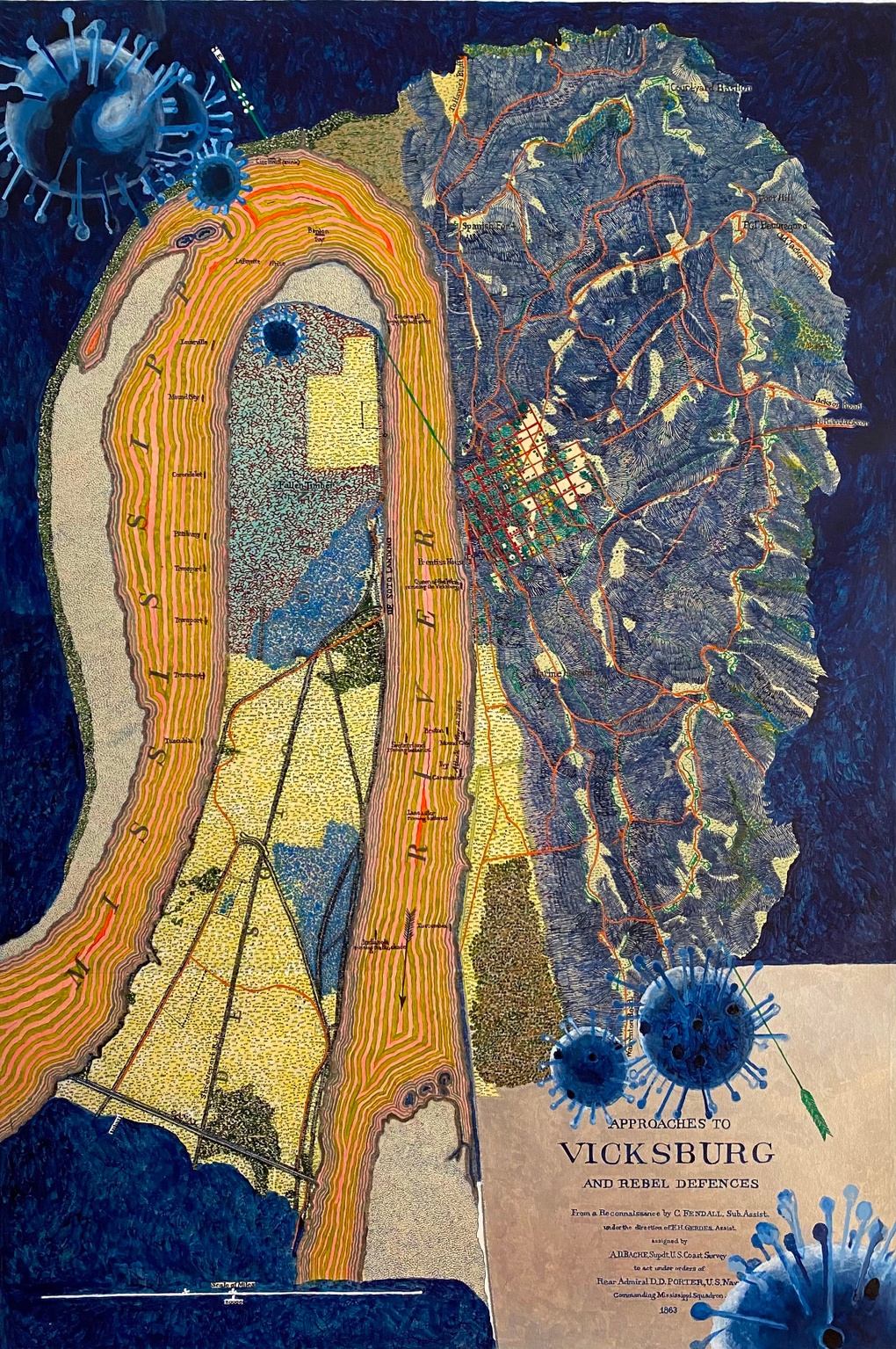 Joyce Kozloff, Battle of Vicksburg
Statement
Beginning in 1970, energized by participation in the feminist art movement, Joyce Kozloff became an originating figure of the Pattern and Decoration movement, exploring applied and decorative arts, especially visual cultures of the nonwestern world, as source and inspiration. During the 1980s, Kozloff concentrated on ambitious public commissions in the US and abroad, many in transportation centers, executed in ceramic tile and/or glass and marble mosaic. By the 1990s, maps had become the foundation for Kozloff's private work, structures into which she would insert a range of issues, particularly the role of cartography in human knowledge and as an imposition of imperial will. Her map and globe works–frescoes, books, paintings, sculptures–image both physical and mental terrain, and employ mutations to raise these geopolitical issues. Her work luxuriates in the sheer beauty of maps, as incised diagram and reflection of our world.
Artwork Info
Date
2020
Dimensions
60 x40 inches
Medium
Acrylic on canvas
Artist Info
Born
Somerville, NY
Works
New York, NY
Reflecting on this Year
I have been making paintings based on maps of Civil War battles, maps that were drawn during the war. They are overlaid with viral outbreaks. The viruses do not indicate sites of disease. They are a metaphor for the underlying disturbances in our country which periodically erupt.
Out of Many: Joyce Kozloff and Tamara Gayer in conversation with Sara Reisman, November 09, 2021
Biography
Joyce Kozloff has completed 18 public artworks in the US and abroad. The most recent, Memory and Time, a GSA commission, will be installed at the new federal courthouse in Greenville, SC in summer 2021. Recent exhibitions featuring Kozloff's work include With Pleasure: Pattern and Decoration in American Art 1972-1985, Museum of Contemporary Art, Los Angeles, CA (2019), traveling to Bard Hessel Museum of Art, Annandale-on-Hudson, NY (2021); Less is a Bore: Maximalist Art & Design, Institute for Contemporary Art, Boston, MA (2019); across boundaries, Draiflessen Collection, Mettingen, DE (2018); Les Chemins du Sud, MRAC, Sérignan, FR (2019); Pattern and Decoration: Ornament as Promise, Ludwig Forum for International Art, Aachen, DE, traveled to MUMOK, Vienna, AT and Ludwig Museum, Budapest, HU (2018-2019); Pattern, Decoration & Crime, MAMCO, Geneva, CH, traveled to Le Consortium, Dijon, FR (2018-2019), and Crossing Boundaries: Art//Maps, Boston Public Library, Boston, MA (2018).