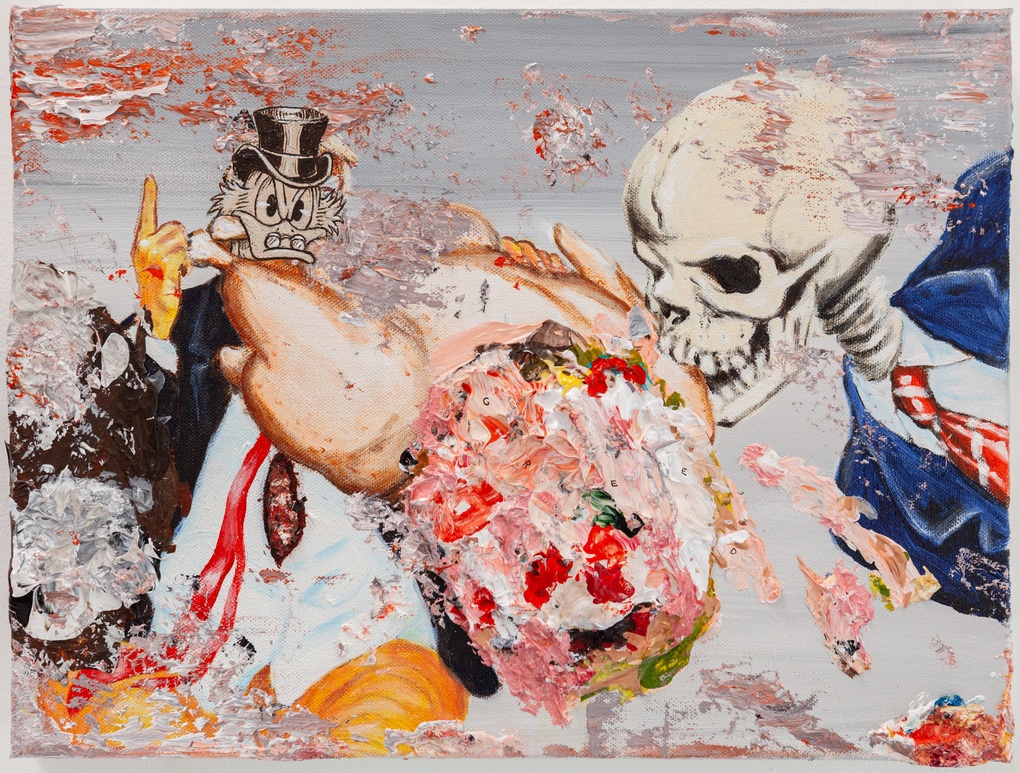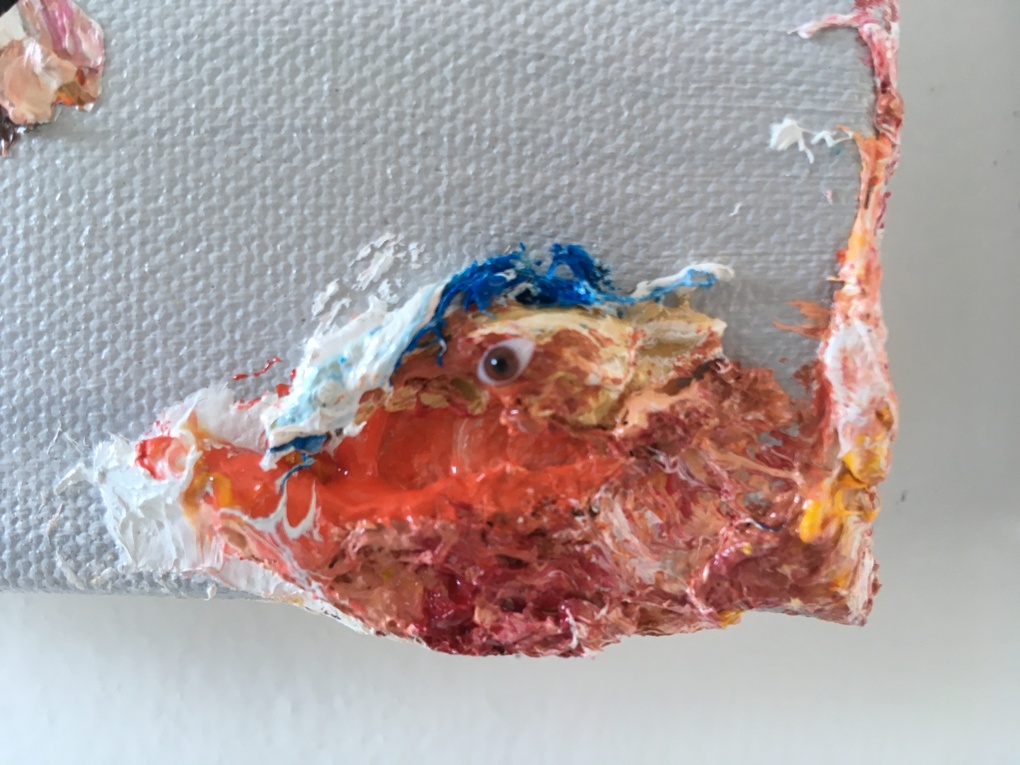 Enrique Chagoya, Greed (from the Seven Deadly Sins series)
Statement
I am a printmaker and painter who works on social issues and contemporary culture with a critical perspective. Satire and sense of humor are embedded in my artwork as a strategy to welcome viewers to engage in current issues that present existential challenges to all of us. I hope my work will facilitate a thought-provoking experience and dialogue for change.
Artwork Info
Date
2020
Dimensions
12 x 16 inches
Medium
Acrylic, water mixable oil and glass eyes collaged on canvas
Artist Info
Born
Mexico City
Works
San Francisco/Stanford, CA
Reflecting on this Year
This painting is one of seven based on James Ensor's version of The Seven Deadly Sins. It has been produced keeping in mind the pandemonium sparked by the departing administration and its long-term effects on society. I made the work during shelter in place. As an immigrant myself–and even though now I am a naturalized citizen–it has hit me close to home to see the tragic immigration stories of death at the border between U.S. and Mexico, with thousands of refugee families being separated and kept in terrible, inhumane detention centers, mostly economic or climate refugees who in many cases also run from death threats by drug gangs. Hand in hand with this kind of xenophobic racism, it has affected me to see the racial conflict with innumerable cases of African American people killed by white police officers that has not stopped even after the huge mass protests after the killing of George Floyd. Adding to this dramatic moment in the history of the country, I have been scared by this pandemic that has infected over 28 million people in this country and has produced over five hundred thousand deaths in February, with an enormous economic crisis affecting black and brown people in disproportionate ways due to social inequality (with less access to health services and income). Climate change, record-breaking catastrophic fires all over the West, and the largest number of storms in the Gulf of Mexico in recorded history are yet one more aspect of an almost apocalyptic time we need to reckon with. I use popular cartoon characters as avatars of a recognizable, now departing, political figure to express with humor some serious issues that may persist for a while beyond any political personality and keeping in mind big hopes for a more livable future for all. Art by itself may not change the world. It is just a little help to think and start a dialogue, because we need to change out of necessity to survive as species, beyond ideologies.
Biography
American, born Mexico City, lives in San Francisco, CA. Drawing from his experiences living on both sides of the U.S.-Mexico border in the late 70s, and also in Europe in the late 90s, Enrique Chagoya juxtaposes secular, popular, and religious symbols in order to address the ongoing cultural clash between the United States, Latin America, and the world. Chagoya has been exhibiting his work nationally and internationally for over two decades. He is Full Professor at Stanford University's Department of Art and Art History.