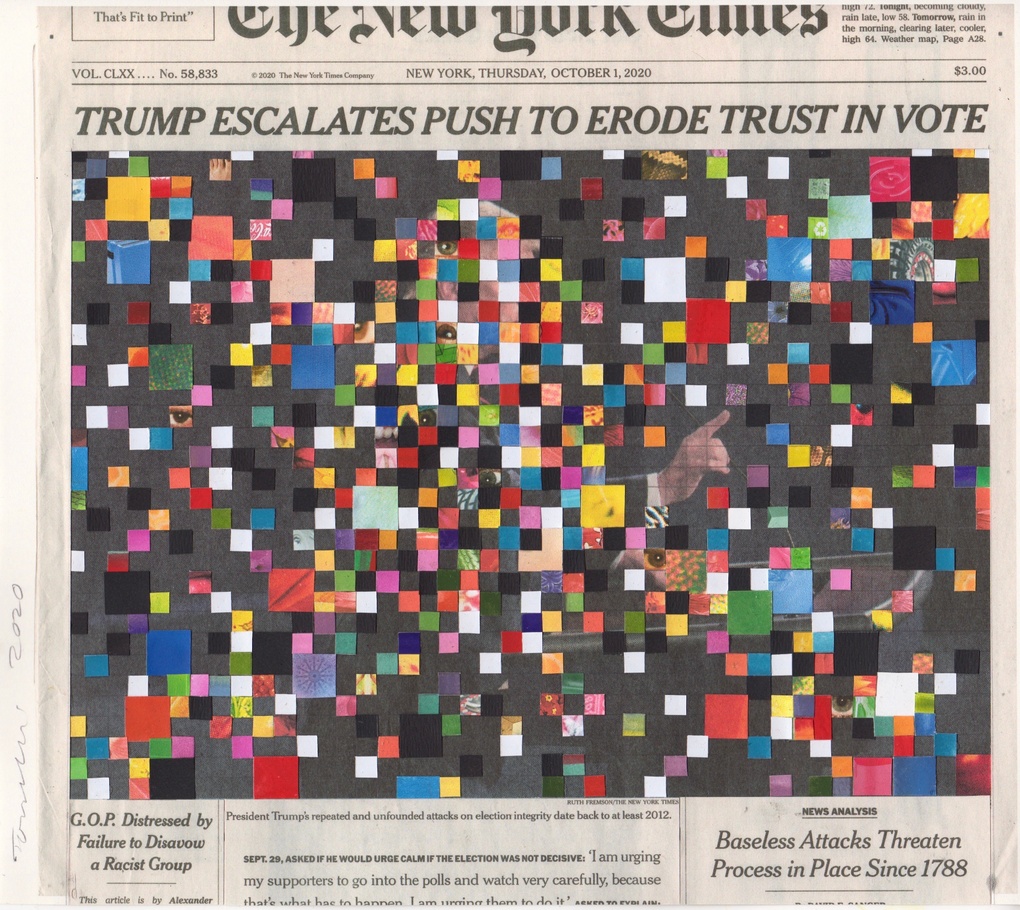 Fred Tomaselli, October 1, 2020
Statement
I've been working over the front page of The New York Times off and on since 2005. As a collagist, I tend to see myself as a kind of conductor overseeing a choir of nameless voices singing through artifacts. Newspapers–with their army of editors, writers, fact checkers, and photographers–seem to embody a similar kind of cultural collectivity. Maybe my interventions on the front page of The New York Times are just one extra editorial decision added onto a collection of other editorial decisions. Maybe the imposition of my subjective reality onto their "objective" reality is just my way of talking back.
Artwork Info
Date
2020
Dimensions
11 x 12 inches
Medium
Gouache, collage and inkjet print on watercolor paper
Artist Info
Born
Santa Monica, CA
Works
Brooklyn, NY
Reflecting on this Year
I made this and other small works in a spare bedroom at home during the time we were sheltering in place.
Out of Many: Fred Tomaselli in conversation with Sara Reisman, October 5, 2021
Biography
Fred Tomaselli has shown his work in museums, biennials and galleries around the world, including Museum of Modern Art, Museum of Contemporary Art, the Metropolitan Museum of Art, and San Francisco Museum of Modern Art. Biennials include the Whitney Biennial, Berlin Biennial, Lyon Biennial, Sydney Biennial, and Prospect One, New Orleans. Solo museum shows include the Whitney Museum at Philip Morris, S.I.T.E. Santa Fe, Albright Knox Gallery, Fruitmarket Gallery, Irish Museum of Modern Art, Modern Art Museum of Fort Worth, Aspen Art Museum, Brooklyn Art Museum, Tang Teaching Museum in Saratoga Springs NY, Orange County Art Museum, University of Michigan Art Museum, Toledo Art Museum, and Jocelyn Museum, Omaha, NB. A native Californian, he has lived in Brooklyn since 1985. His work is represented by White Cube, London and James Cohan Gallery, New York.