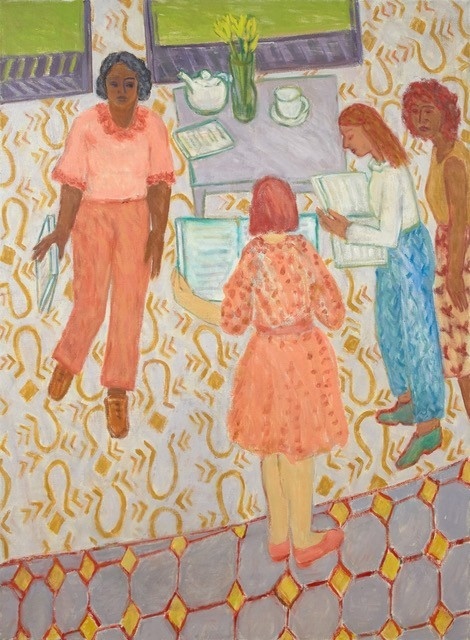 Barbara Grossman, Light Yellow Flowers
Statement
Barbara Grossman's paintings and oil stick drawings depict the interplay of women in outside/inside places. The work is characterized by intense color, multiple patterns and dynamic spaces, which are simultaneously deep and shallow. She is very involved in the tension between the confluence of the repetitive patterns, luminosity of color and light, as well as the folding and torque of space that observation and experience reveals. Decisions are made over time, often a year or more. Sweeping changes, drawing marks, all beget new configurations that effect the trajectory of the painting. Not until it is "finished" does she know how it will be resolved. The notion of a narrative is in the viewers' purview so it can be seen from many different points of view. Often the women are involved with music, reading, or residing and interacting in their private worlds. Who they are is an open question.
Artwork Info
Date
2020
Dimensions
60 x 44 inches
Medium
Oil on Linen
Artist Info
Born
New York, NY
Works
New Rochelle, NY
Reflecting on this Year
I recently heard an artist say that form was only the vehicle for what you "want to say, who you are." For me, the form, the structure, and how we perceive the world is wedded to the subject. They are intertwined. This is particularly important as a representational artist today.
Biography
Barbara Grossman was born and raised in New York City. She went to the High School of Music and Art and The Cooper Union. She was married to Charles Cajori (1921-2013). She had a Fulright-Hayes Grant in Germany and upon her return to the United States she and a group of artists founded the Bowery Gallery (1969), where she exhibited until 2007. Barbara has exhibited consistently in galleries in the U.S. throughout her career. She has also been awarded two Connecticut Commission on the Arts grants, an Ingram Merrill prize, and was elected to the National Academy of Design (1994), where she won a Ranger Purchase Prize and other awards. Barbara taught at institutions including University of Pennsylvania, Yale University, the Chautauqua Institution, as well as serving as the Artist in Residence at Dartmouth College and Hollins University. She is represented in numerous public and private collections in the United States.