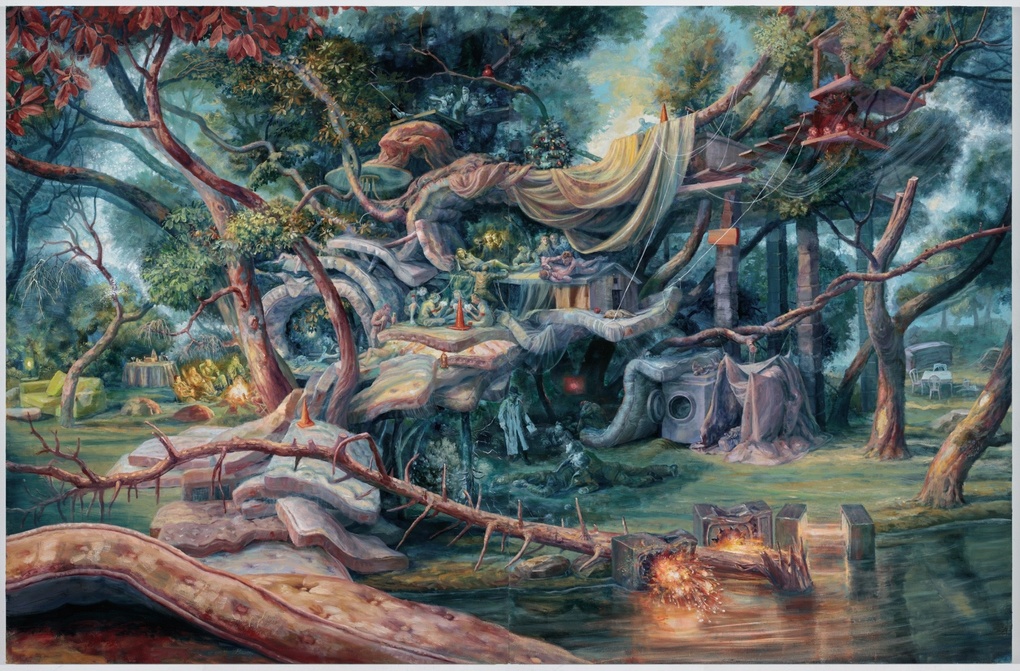 Julie Heffernan, Camp Bedlam
Statement
I grew up in the West, so I'm inclined towards mighty spaces. In my latest paintings I wanted to see what sense I could make of the landscape around me after calamities like Hurricane Sandy and the BP oil spill. I've invented alternative habitats—rafts and tree houses, and mechanisms for storing food and things we can't live without, like water and books. These alternative spaces, like tiny worlds inside the knothole of a tree, are full of events that describe aspects of the human condition: circumstances of failure, feckless action, violence and redemption, all played out in a landscape where nature is running amok. As a maker of things I need to imagine other possibilities as virtual preparation for a wildly uncertain future.
Artwork Info
Date
2016
Dimensions
68 x 104 inches (diptych)
Medium
Oil on canvas
Artist Info
Born
Peoria, IL
Works
Brooklyn, NY
Reflecting on this Year
As the world spins more and more out of control no one is exempted from the impending chaos, but our creativity just might save us.
Biography
Julie Heffernan is represented by Catharine Clark Gallery, San Francisco. She has had solo exhibitions throughout the United States, Japan and Europe, including at PPOW in 2018 and a traveling museum show, When the Water Rises, at LSU Museum of Art, Menello Museum, and Virginia Museum of Contemporary Art, among others through 2019. She has participated in numerous international shows: Museum für Moderne Kunst, Bremen; Me Museum, Berlin; and the Palazzo Reale, Milan, among others. Heffernan has received numerous awards, including the National Endowment for the Arts, New York Foundation for the Arts, Fulbright, PS1 Artist-in-Residence Grant, MacDowell Fellowship, and BAU Institute Fellowship. Her work has been reviewed by The New York Times, Art in America, ArtForum, and The New Yorker, among others; and is in numerous museums including the Brooklyn Museum of Art, Me Museum, Pennsylvania Academy of Fine Arts, and Virginia Museum of Fine Art in Richmond, VA. She is a Professor of Fine Arts at Montclair State University.