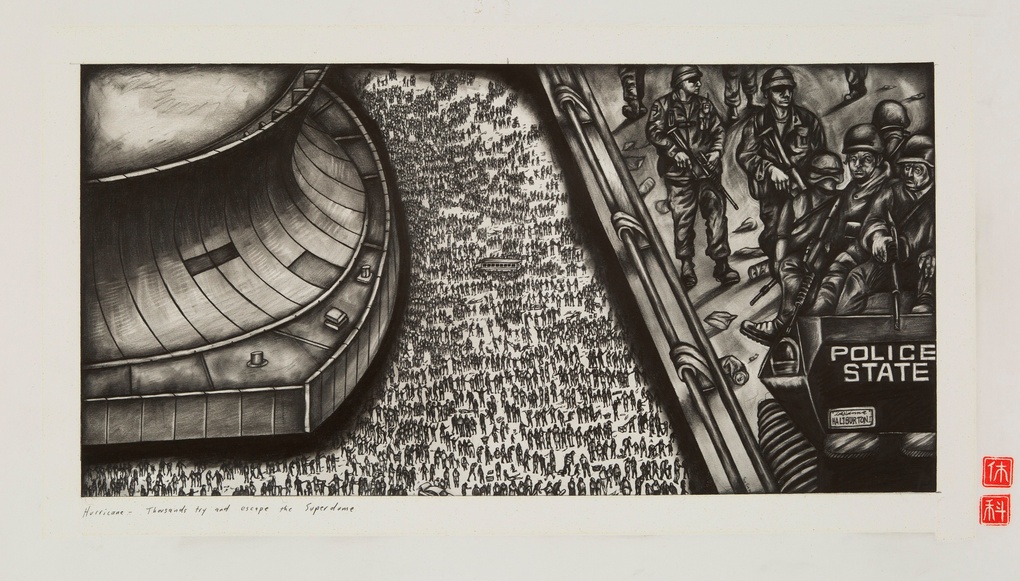 Sue Coe, Thousands Try and Escape the Superdome
In this very sobering drawing, Sue Coe reminds us that "2020 did not reveal anything we didn't already know," primarily for those who experienced it, but also because the entire country witnessed the devastation caused by Hurricane Katrina. Here, Coe illustrates the confinement, surveillance, and harrowing conditions tens of thousands suffered while seeking shelter and safety in the Superdome.
Statement
A pencil is cheap and can be carried anywhere, behind an ear, along with a scrap of paper. Art can happen and function as visual journalism, a record.
Artwork Info
Date
2006
Dimensions
23 x 29 inches
Medium
Graphite on white Strathmore Bristol board
Artist Info
Born
United Kingdom
Works
Deposit, NY
Reflecting on this Year
Capitalism has always exploited the poor and the weak. The events of 2020 did not reveal anything we didn't already know. In 2005, 20,000 refugees from Hurricane Katrina fled to the Superdome. It was described by survivors as a concentration camp. Children were reportedly molested and raped. People were terrorized, one committed suicide by jumping off the roof, which had partially collapsed. The toilets were overflowing and fecal matter was up to the knees on stairwells. Officials had known for years that a hurricane could breach the defenses, but they chose to spend millions on a sports arena rather than fix the levees.
Biography
Sue Coe is an English-born, American artist and illustrator working primarily in drawing, printmaking, and in the form of illustrated books and comics. Her work is in the tradition of social protest art and is highly political. Coe's work often includes animal rights commentary, though she also creates work that centralizes the rights of marginalized peoples and criticizes capitalism. Her commentary on political events and social injustice are published in newspapers, magazines and books. Her work has been shown internationally in both solo and group exhibitions and has been collected by various international museums. She lives in Upstate New York and is represented by the Galerie St. Etienne in New York City.