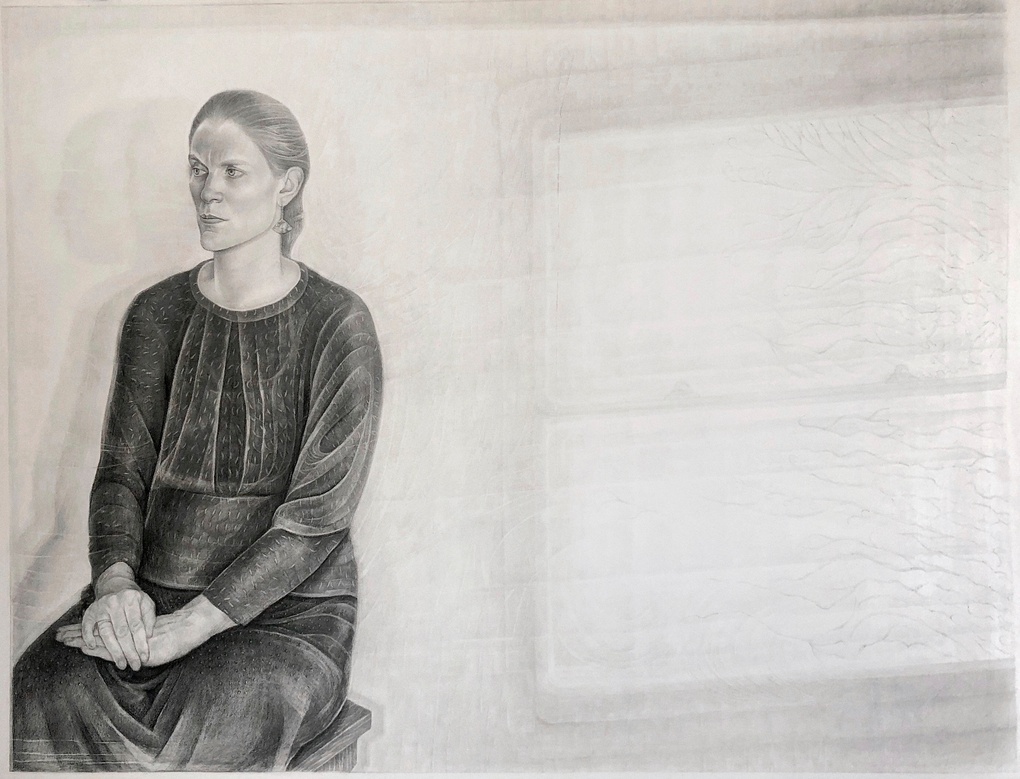 Simon Dinnerstein, Conversation
Statement
Over many years, I have chosen, on and off, to work in the medium of large-scale drawings, which have, in some instances, the resolution and depth of a painting. The drawings are done in multiple drawing media. Conversation was worked on over a 25-year period (1995-2020), the last portion of which occurred during the Pandemic year, 2020. A woman sits in great isolation, alone in solace, attempting to make sense of where she is. Lost in thought and isolation, she finds herself in an engulfing interior space, 'conversing' with the world to her left and the light, to her right.
Artwork Info
Date
1995-2020
Dimensions
36.875 x 47.75 inches
Medium
Pencil, conté crayon, powdered graphite
Artist Info
Born
Brooklyn, NY
Works
Brooklyn, NY
Reflecting on this Year
"Conversation" reminds me of a story, "The Yellow Wallpaper": a woman seems to be communing with a wall or wallpaper and, slowly, begins to disappear.
Biography
Simon Dinnerstein is an American figurative artist best known for his masterwork The Fulbright Triptych. In addition to 35 one-man exhibitions, Simon Dinnerstein is the recipient of a Fulbright Fellowship to Germany and a Rome Prize for study in Italy at the American Academy in Rome. Born in Brownsville, Brooklyn, New York in 1943, Dinnerstein has been the subject of four books including, most recently, The Suspension of Time (2011), a 360-page publication devoted to The Fulbright Triptych. The book is the only publication dedicated to a single painting by a living American artist. Awards include a Tiffany Grant, the Ingram Merrill Award for Painting, a New York State Foundation for the Arts Grant. Represented in past years by Staempfli Gallery and ACA Galleries, NYC. He resides in Park Slope, Brooklyn, NYC. Simondinnerstein.com