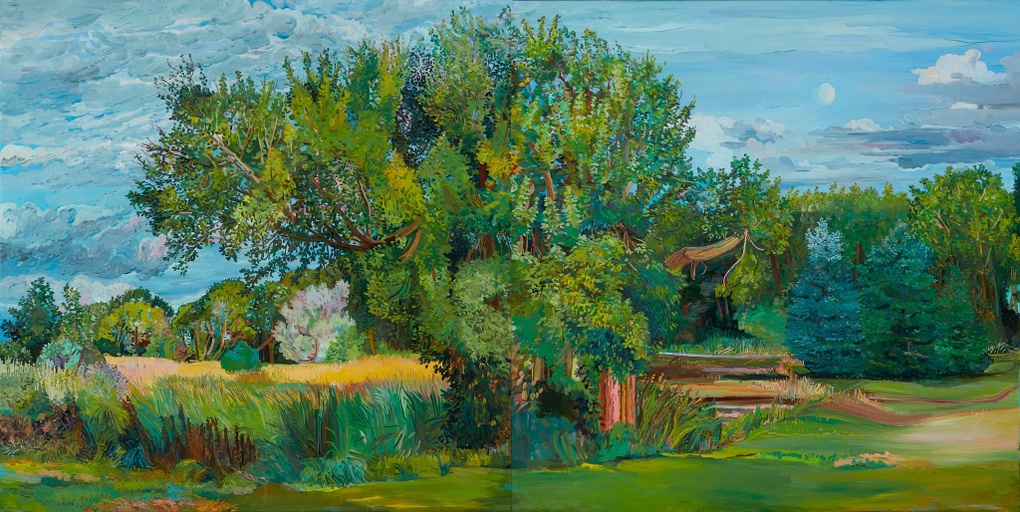 Nancy Friese, Long Summer Light
Statement
I remain curious about how to represent our urban wild and rural natural world experientially. I do almost all my work in open air. It is restorative and is a record of natural changes in parks, yards, gardens, ocean sides and more. Each piece is a composite of many days and times. The sense of walking into a painting is a goal. Making spaces where others can wander with me continues to puzzle and fulfill me.
Artwork Info
Date
2021
Dimensions
50 x 100 inches (diptych)
Medium
Oil on canvas
Artist Info
Born
Fargo, ND
Works
Rhode Island and North Dakota
Reflecting on this Year
I painted this piece on my great-grandfather's rural farmstead site, in a county still culturally Norwegian-American. The long summer of the title is the pandemic summer of 2020. It was sad and sweet at the same time because I became involved in saving a 130-year-old Norwegian-American church from being burned down. With our masks and distance, my neighbors and I rallied to transform the building into a cultural center for the wide rural community.
Biography
Nature has been a splendor to me throughout my life. Each year I live between the baysides and the plains. I studied at University of North Dakota, Art Academy of Cincinnati, University of California-Berkeley, and received my MFA from Yale University School of Art. Teaching has woven in and out of my painting and printmaking seamlessly and cyclically now through four decades, and currently at Rhode Island School of Design. I moved toward art because of the quiet inner life I wanted, and found a deep and greater world. I received two National Endowment for the Arts Creative Fellowships, a Japan-US Friendship Commission Fellowship Residency, a George Sugarman Foundation Grant, a Giverny Residency, and a LMCC 91st floor WTC North studio, ending on 9/11. Since 2001, I paint every summer at my great-grandparent's farmstead in North Dakota. My work is represented by Cade Tompkins Projects and Oehme Graphics.