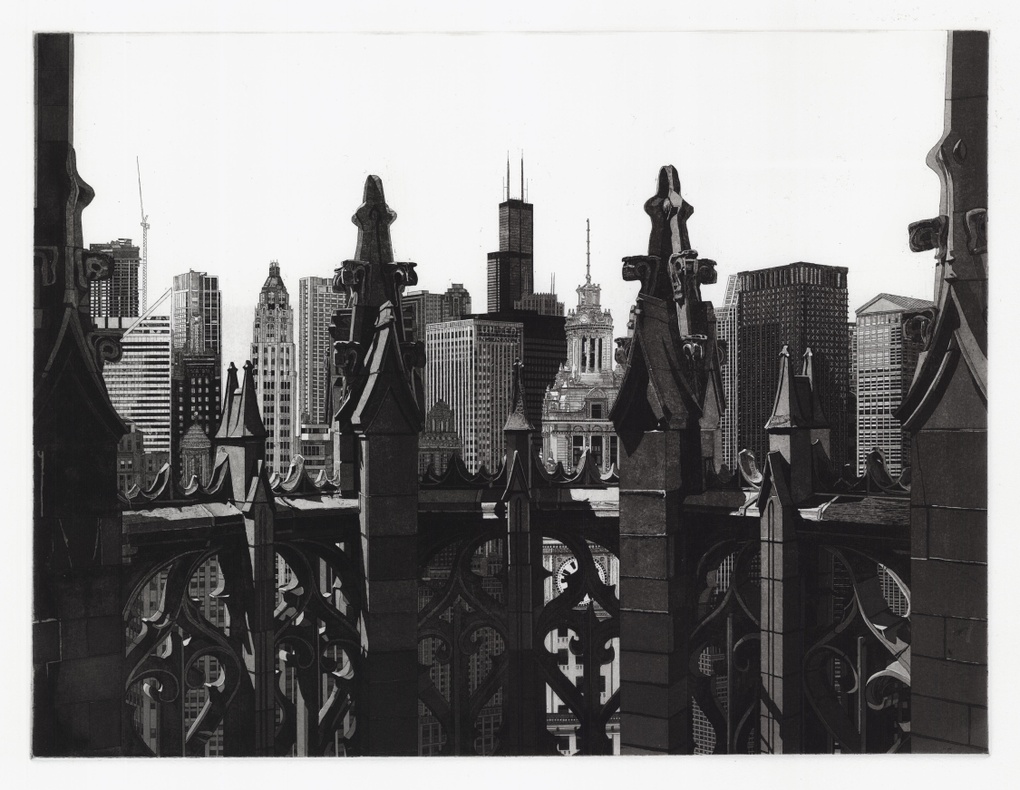 Martin Levine, Tribune Tower
Statement
Architecture is the primary inspiration for my art. This preoccupation was developed through my conviction that architecture is one of humankind's greatest achievements. Both rural and urban buildings remain the attention of my work, with a historical reverence to the generations of artists who share my love and motivation. Constructed edifices and structures, both old and new, not only embody the visual dynamics of the environment we exist in but help us live our lives more comfortably and resourcefully. My aquatint etchings, lithographs, and drawings usually take months to complete due to my obsession with detail, and intense involvement with every technical aspect of the medium. My images are intentionally devoid of humans, allowing the viewer exclusivity by minimizing any distractions. My fascination with exaggerated perspective, unusual vantage points (bird's eye view), and elongated shadows continues to characterize my images.
Artwork Info
Date
2013
Dimensions
11.75 x 15.625 inches
Medium
Etching and aquatint
Artist Info
Born
New York, NY
Works
Mt. Sinai, NY
Biography
Artist/printmaker Martin Levine was born in New York City. He received a BS in Art Education from Buffalo State College, and an MFA in Printmaking from California College of Arts (CCAC), Oakland, CA. He works mainly in etching and lithography, depicting realistically rendered cityscapes. His work has been exhibited extensively and he has received over 120 national and international awards, including a National Endowment for the Arts in Printmaking. His prints and drawings are in important collections, including the Brooklyn Museum, Museum of Fine Arts Boston, Art Institute of Chicago, and Victoria & Albert Museum, London. He has been an invited juror for numerous international exhibitions, including biennials in Bulgaria, Yugoslavia, Poland, and England. He is the former President of the Society of American Graphic Artists and was elected to the National Academy of Design in 1997. He has taught printmaking at SUNY Stony Brook since 1986.