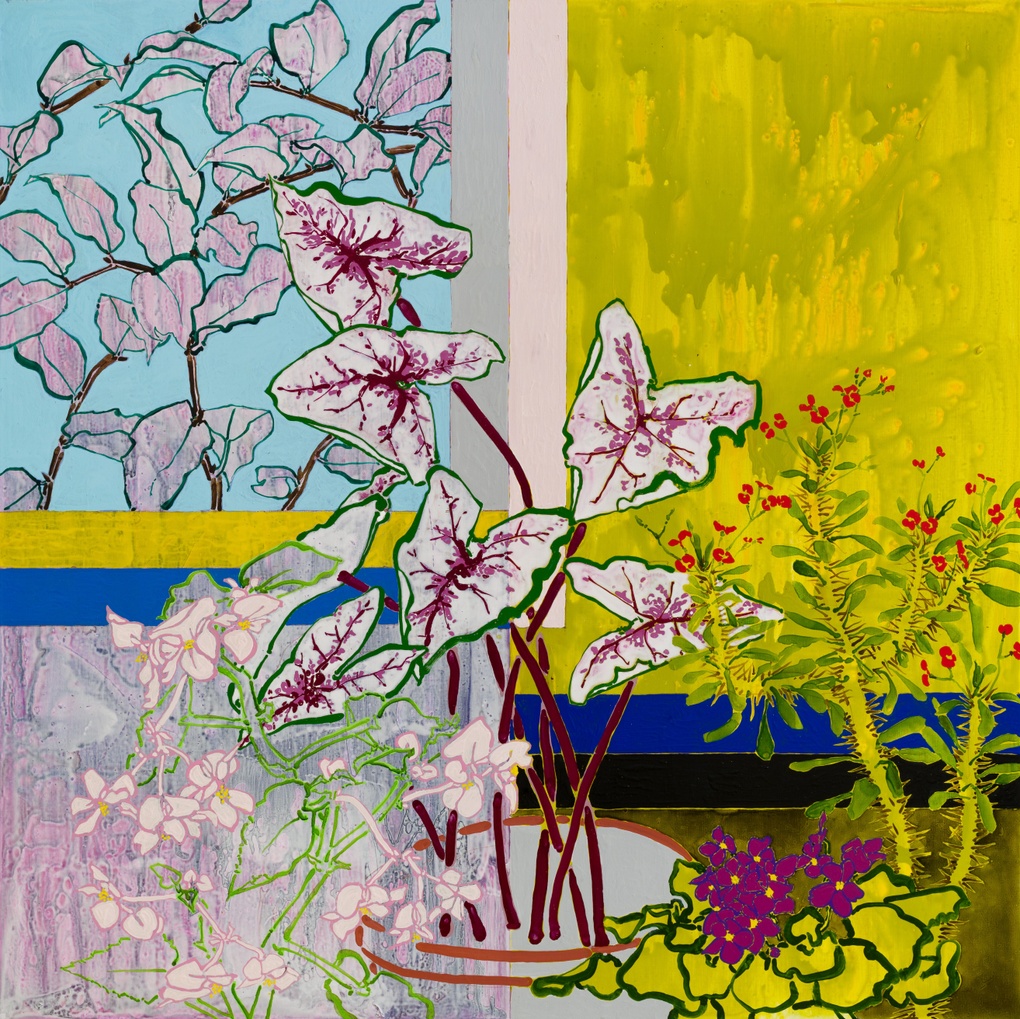 Robert Kushner, Inside/Outside
Statement
Since participating in the early years of the Pattern and Decoration Movement in the 1970s, Robert Kushner has continued to address controversial issues involving decoration. Kushner draws from a unique range of influences, including Islamic and European textiles, Henri Matisse, Georgia O'Keeffe, Charles Demuth, Pierre Bonnard, Tawaraya Sotatsu, and Wu Changshuo. Kushner's work combines organic representational elements with abstracted geometric forms in a way that is decorative and modernist. Kushner's newest work presents some striking departures and some reiterations of themes that have been integral to his work for decades. The most visible introduction is a bold use of geometricized patterns that break through his new floral compositions, echoing, amplifying and sometimes even undermining the rhythms of the more naturally drawn floral elements. His exotic and unique color sense has become bolder within his new work, and the emotional range varies from contemplative to exuberant and celebratory.
Artwork Info
Date
2020
Dimensions
72 x 72 inches
Medium
Oil and acrylic on canvas
Artist Info
Born
Pasadena, CA
Works
New York, NY
Biography
Most recently, Robert Kushner's work has been included in several national and international museum exhibitions focusing on the Pattern and Decoration movement: With Pleasure: Pattern and Decoration in American Art 1972-1985, MOCA, Los Angeles, CA (2019-2020); Less is a Bore: Maximalist Art & Design, Institute for Contemporary Art, Boston, MA (2019); Pattern and Decoration: Ornament as Promise, Ludwig Forum, Aachen, Germany, Museum Moderner Kunst Stiftung Vienna, Austria, and Ludwig Museum, Budapest, Hungary (2018-2019); Pattern, Decoration & Crime, MAMCO, Geneva, Switzerland, and Le Consortium, Dijon, France (2018-2019). Kushner's work has been exhibited extensively in the United States, Europe, and Japan and has been included in the Whitney Biennial three times and twice at the Venice Biennale. He was the subject of solo exhibitions at both the Whitney Museum of American Art and the Brooklyn Museum. A mid-career retrospective of his work was organized by the Philadelphia Institute of Contemporary Art.