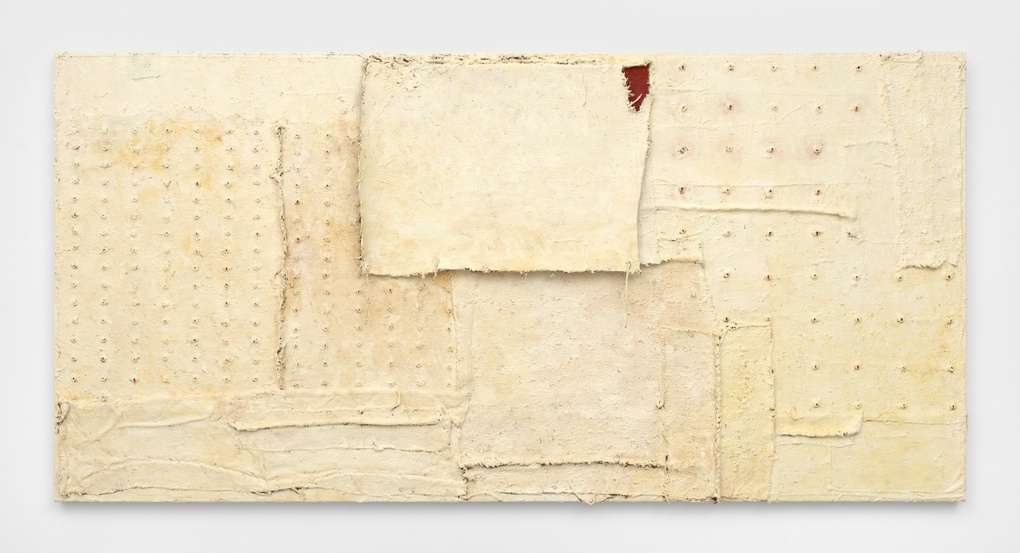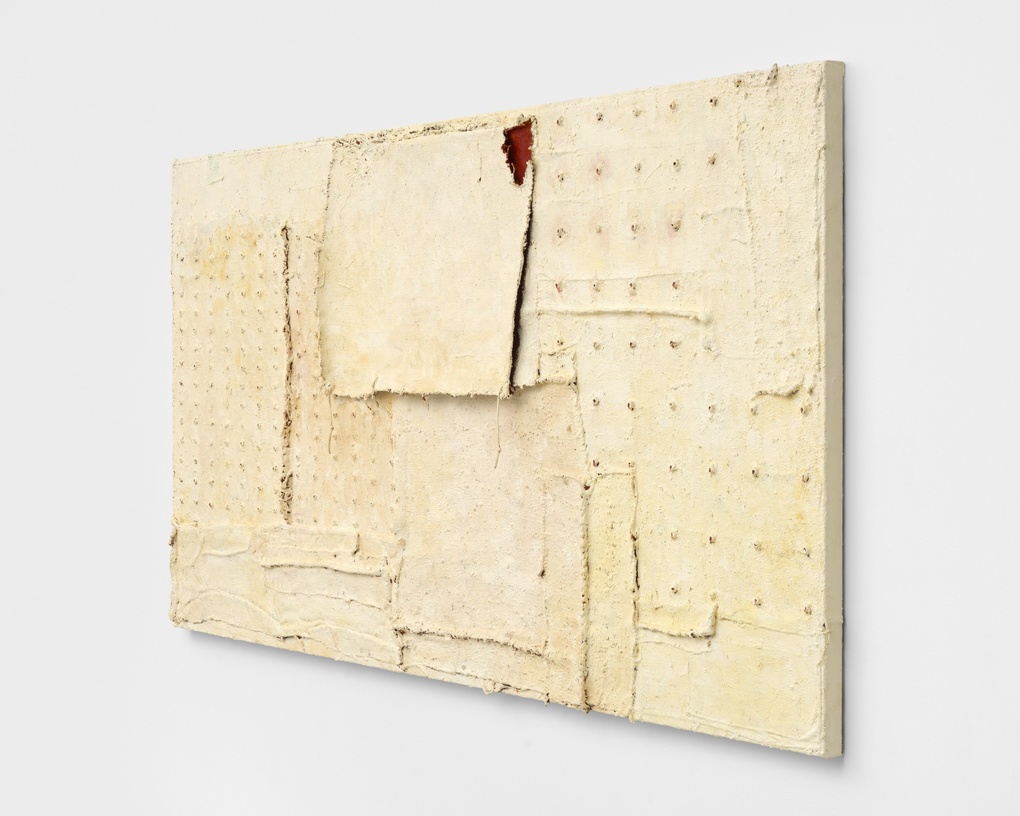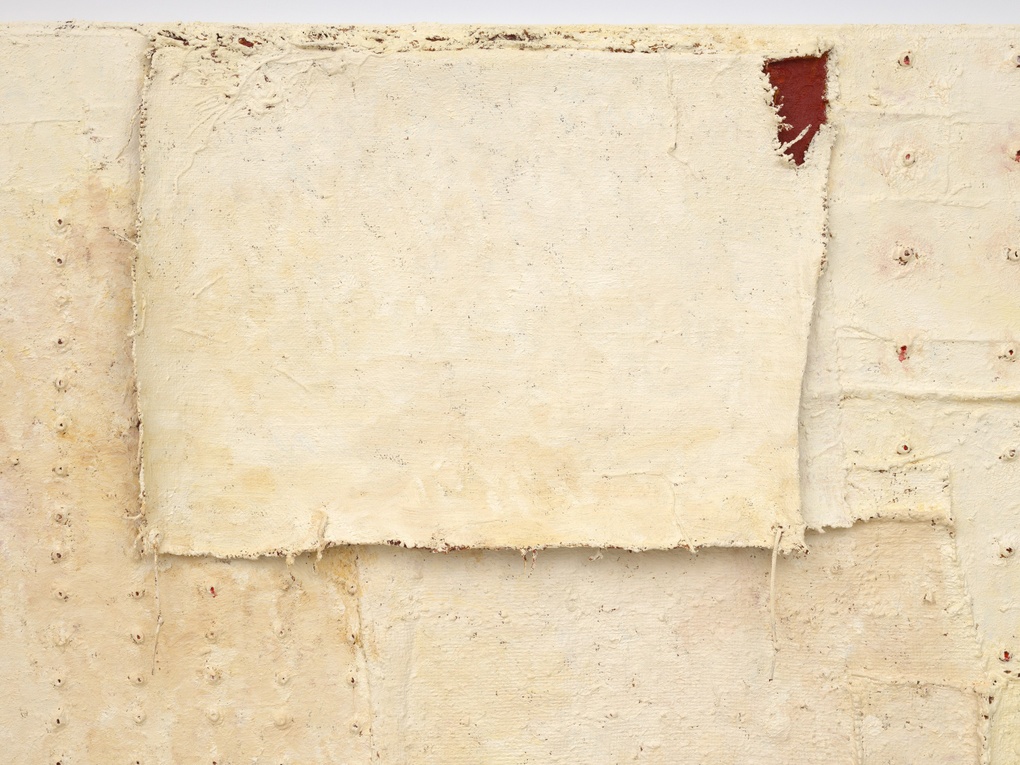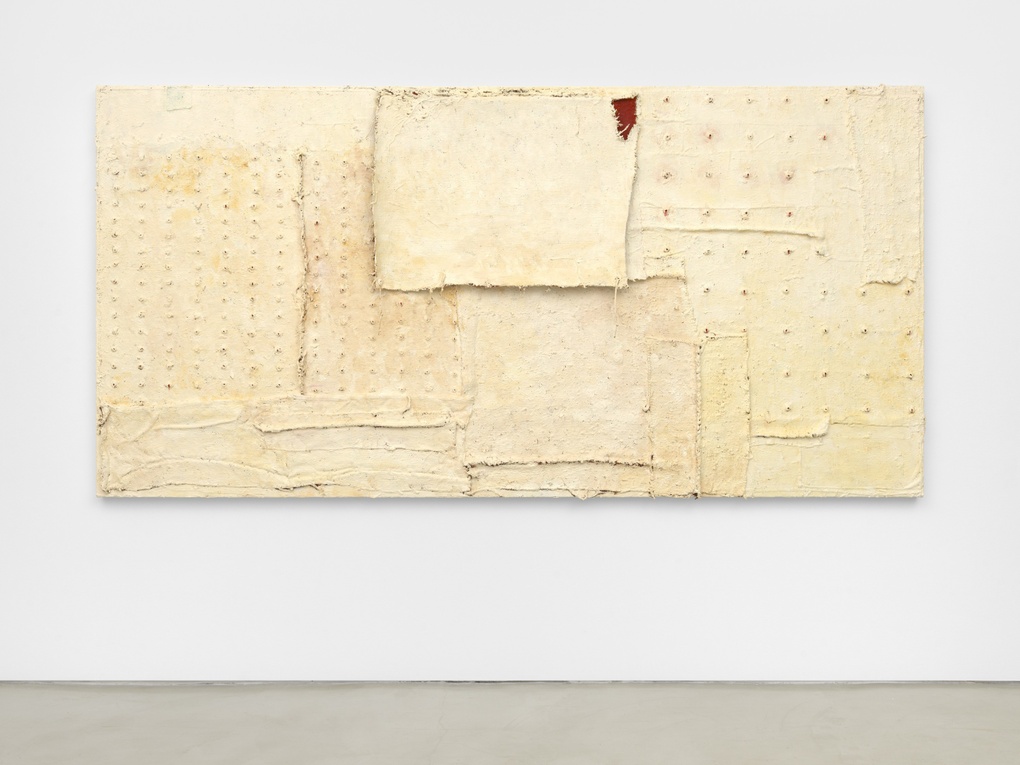 Harmony Hammond, Chenille #7
Statement
I make paintings that participate in the narrative of modernist abstraction at the same time they interrupt and subvert that narrative. Mostly I do this through "material engagement," or the agency of materials and the way they are physically manipulated to bring social and political content into formal abstraction. In my recent painting, fraying pieces of coarse burlap and grommets are layered intermittently with thick oil paint. The raised patterns created by the paint encrusted grommets and the off-white color suggest the soft texture and domestic warmth of tufted chenille bedspreads, but with an edge, as under-layers of color assert themselves, pushing up through tears in the burlap, oozing out of grommeted holes, and bleeding into the paint, thereby suggesting the potential disruption of the warm white coverlet. In this way, Chenille #7 alludes to the social unrest, political threats, and agency of those who have been suppressed and marginalized.
Artwork Info
Date
2018
Dimensions
58.25 x 118.25 x 5.5 inches
Medium
Oil and mixed media on canvas
Artist Info
Born
Chicago, IL
Works
Galisteo, NM
Biography
Harmony Hammond, a leading figure in the development of the feminist art movement in New York in the 1970s, has lived in Northern New Mexico since 1984. Her work has been included in major exhibitions such as WACK! Art and the Feminist Revolution, High Times, Hard Times: New York Painting 1967-1975, and Painting 2.0, and will be included in forthcoming exhibitions at the Centre Pompidou, Guggenheim Bilbao, Los Angeles County Museum of Art, and National Gallery of Art. Material Witness, a fifty-year survey of her work, opened in 2019 at the Aldrich Contemporary Art Museum and traveled to the Sarasota Museum of Art in 2020. Hammond's work is represented by Alexander Gray Associates in New York City, where she has had four solo exhibitions. Her work is in the collections of the Whitney Museum of American Art, Museum of Modern Art, Brooklyn Museum, Minneapolis Institute of Art, Walker Art Center, and Chicago Art Institute, among others.