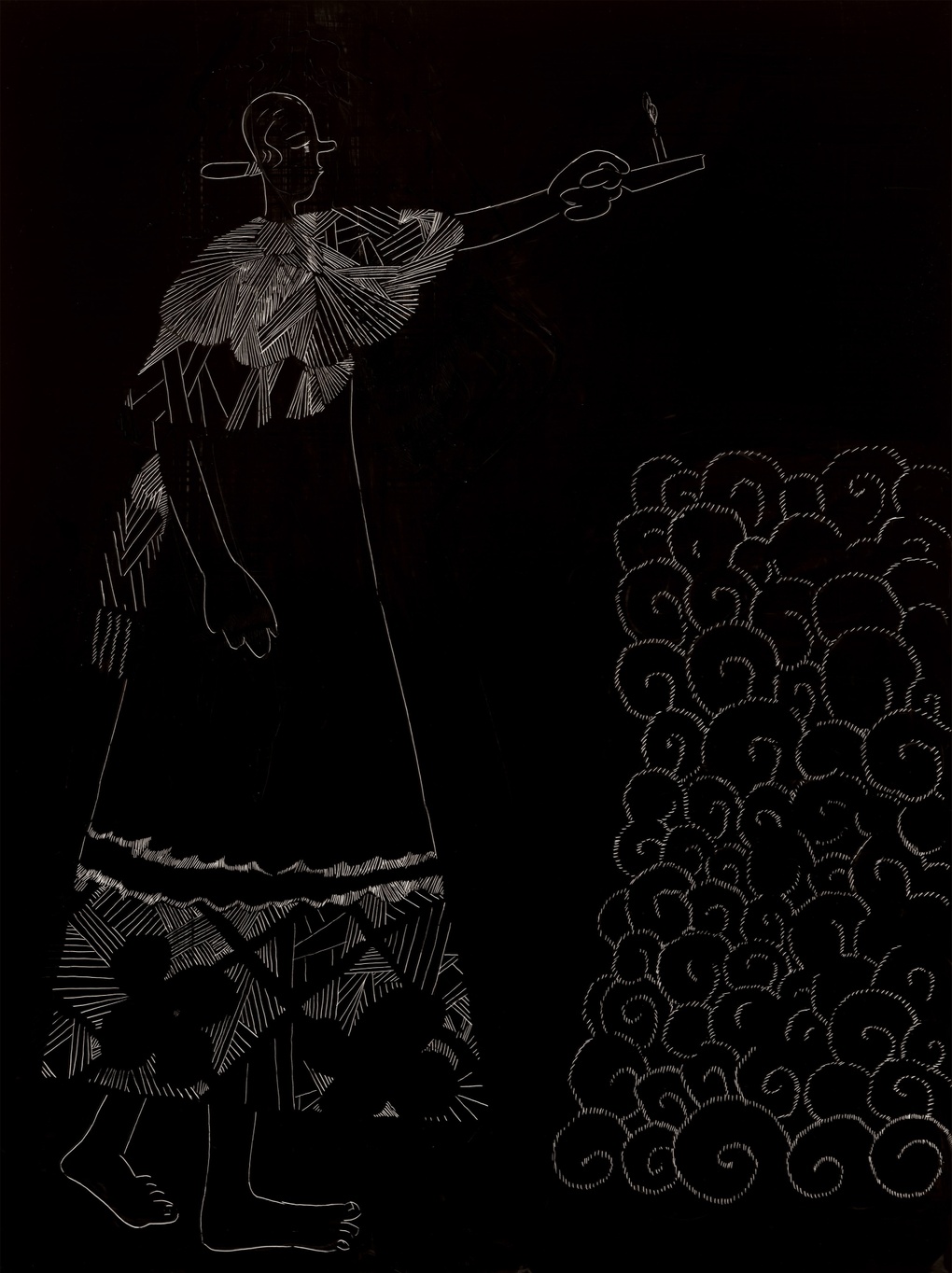 Elena Sisto, Phantom of Liberty (For Bertolucci)
Statement
Women are my protagonists, of all ages and types, engaged in everything from climbing mountains, brandishing weapons, responding to the threat of global warming, the challenges of quarantine during the COVID-19 pandemic, and civil unrest. Themes of bravery, caring, companionship, and solidarity are coupled with a more subtle message of strength, humor, and resilience. The figure evolved from cartoon characters of compelling women, especially Olive Oyl, further abstracted, exaggerated or made indeterminate to better slip in and out of different social roles and situations. My idea was to create immediate character recognition for the viewer but with sufficient ambiguity so as to invite identification. My central character functions as an avatar. She's a being of internal feeling rather than external looks. I send her into the world to do things I've never done or may never do, who can enter situations I'm interested in–sort of an empathy machine.
Artwork Info
Date
May 2020
Dimensions
24 x 18 inches
Medium
India ink on board
Artist Info
Born
Cambridge, MA
Works
New York, NY
Reflecting on this Year
This drawing began as a rendition of the Dutchess of Alba, so lovingly portrayed by Francisco de Goya. Facing the viewer originally, her image gradually began twisting towards the right. What had been the imperious gesture of a confident, adored and spoiled aristocrat gradually transformed into one of solitary searching and inquiry. In the process her character evolved from Spanish Grandee to unsure questioner. She is like a lay Statue of Liberty peering out into the darkness. The title of the piece comes from a 1974 Surrealist comedy by Luis Bunuel "Phantom of Liberty". In a series of vignettes, one character from the first moves into the second, another from the second to the third and so on, carrying the thread of the Phantom of Liberty from one absurdist context to the next. Each episode is more outlandish than the last provoking questions about the stability of accepted social norms of the time. "Chance governs all thing; necessity which is far from having the same purity, comes only later," (L.B.)
2020 Reflection: Luis Buñuel's Phantom of Liberty peers into our future. Attending the social upheaval of 2020, a lay Statue of Liberty.
Biography
Elena Sisto is known for her figurative paintings that frequently focus on the experiences of being a woman. She received her BA in Art from Brown University and Rhode Island School of Design in 1977. In addition, she studied at the New York Studio School, the Skowhegan School and Yale Norfolk. She is a 2013 recipient of the John Simon Guggenheim Foundation Fellowship, National Endowment for the Arts Visual Artist's Fellowships (1983-48 and 1989-90), the Inglis Griswold Nelson Prize from the National Academy of Design (2008), and is an Academician of the National Academy of Design. Sisto has had solo museum shows at the Maeir Museum, the Greenville County Museum, the Katzen Museum at American University, and the Miami-Dade Museum of Art + Design, and was included in the 43rd Corcoran Biennial. She is represented by Bookstein Projects in NYC, Shoshana Wayne Gallery in LA, and Pamela Salisbury Gallery in Hudson, NY.